The Cantabrainers Neurological Rehabilitation Choir

Cantabrainers is a therapeutic choir for people with neurological conditions, such as Parkinson's disease, stroke and multiple sclerosis. The choir aims to improve and maintain communication through physical, social and emotional means. The Choir comes under the funding umbrella of the NZBRI and many of the people who take part have also participated in research at the Institute.
Cantabrainers, which is lead by a Music Therapist and supported by a Speech Language Therapist, differs from other choirs as the singing is about learning to use the voice effectively, in a fun way. It is NOT about performance (although we do perform from time to time!)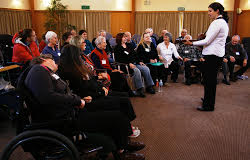 Evidence shows that singing may help to rewire the brain (neural plasticity) after neurological damage. This requires exercises to be done, much like getting fit for sport, correctly and regularly.
Singing is processed in many more areas of the brain than speech and while many people living with the effects of stroke cannot speak, they may be able to sing!
Shallow breathing and a quiet, breathy, voice are issues for people living with Parkinson's disease. Singing helps to coordinate and strengthen their muscles, improving breathing and the ability to be understood. 
The advantage of choral singing is that it is an enjoyable and social way to practice voice exercises and encourages people to try new things at a time when their condition might very easily lead them to be socially isolated.
"Many people say singing is easier than speaking for a stroke victim. For me this seems so. As my confidence has grown, I have been allowed to make sound by myself in choir items. With great reluctance I accepted a small part (duet) offered to me, by the Music Director. She had more faith in me than I had myself and it worked well. All of this has been made possible by being totally accepted by the rest of the choir all of whom come with different strengths and problems."  Derek Chapman (stroke)
"I find the choir very stimulating and rewarding. I have been amazed at the pleasure and enjoyment it has given me. The success of the choir is measured as we bid each other farewell weekly, by the width of our smiles and our confidence as we meet our carers in the carpark."  Bryan Beechey (Parkinson's)
If you would like to support the choir, please call Fiona on 03 3531 245 or email fiona@cmrf.org.nz